what is a ciss (continuous ink supply system)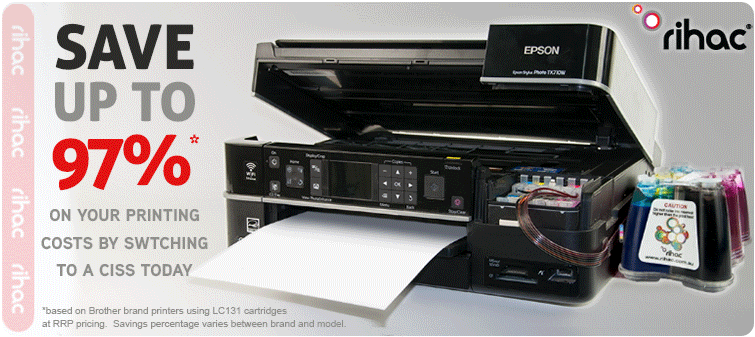 The InkLink™ ink system (CISS™) is used instead of standard inkjet cartridges. Simply explained a CISS or InkLink™ is a self contained unit with its own cartridges fed by tubing from a large ink reservoir which sits beside your printer.
The System acts like a giant cartridge by feeding ink into your printer when required through a set of silicone tubes. You have 100mls of each colour included rather than 10mls (which is the contents of the average cartridge). When you get low on ink, just pull out the plug on the reservoir and pour in some refill ink.
The Rihac Inklink represents the finest in refined CISS technology. With 10 years of ongoing product development, multiple product and innovation patents coupled with the highest standard in third party ink technology makes inklink the choice when it comes to premium quality CISS.
Rihac is committed to being recognised by customers as the very best supplier and stand behind everything with a 100% satisfaction guarantee. This means we will find out our customers' needs today and for the future do all that is possible to satisfy these needs at the lowest cost and continually improve the value of our product